Car and Van Hire in Thirsk
We are now able to offer Motorhome Hire - please call for details!!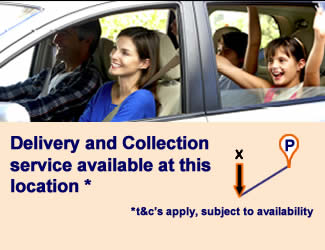 Location Information
8.00 - 18.30 Monday to Friday 8.00-18.00 Saturdays and 8.30 until 17.30 Sundays
Practical Car & Van Rental
442 Motivation Ltd,
T/A Practical Car & Van Rental,
Busby Stoop Garage,
Busby Stoop,
Thirsk,
North Yorkshire
YO7 4EQ
United Kingdom

Tel: 01845 587232
Email: thirsk@practical.co.uk
Practical Car & Van Rental Thirsk, Yorkshire, England
Welcome to Practical Car & Van Rental Thirsk, Yorkshire, we are the official car and van rental location for Thirsk and the surrounding area of Yorks., including Northallerton, Bedale, Catterick, Leeming and Ripon. A comprehensive fleet of rental cars are available from small economy to large saloon, executive and estate car with automatic and diesel variants too. 7 seater people carriers and a 15 seater minibus can accommodate larger parties. Thirsk depot opens 7 days a week and can accommodate car rental during Bank Holidays and 'out of hours' by prior arrangement. Car hire can be arranged via local railway stations at Thirsk and Northallerton and the coach terminals at Thirsk, Northallerton and Ripon. Short and long term rental enquiries from tourists, residents and the local business community are welcomed and all vehicles are offered at competitive car hire rates.
Van Rental - Thirsk, Yorkshire
Thirsk's commercial fleet ranges from small courier style vans through short wheel base (swb), medium wheel base (mwb) to long wheel base (lwb) and extra long wheel base (xlwb). Luton vans with and without tail-lift are also available to rent. Short and long term rental enquiries from residents and businesses alike are welcomed and preferential hire terms may be offered for extended rental durations.
One Way Self Drive Hire - Thirsk
We also specialise in one way self drive car rental. This facilitates transfers from Thirsk to other destinations or airport terminals throughout mainland United Kingdom (U.K.). Onward travelers can collect their rental car from Thirsk depot and arrange recovery of the hire car from most regional and international airports anywhere in England, Wales or Scotland. This self drive hire facility can also be used for other U.K. destinations that are not necessarily airports such as business addresses, homes or any of our many rental locations situated throughout the country. A range of vans are available too for one way hire from small courier style vans up to the long wheel base (lwb) van. Please go to our 'one way rental' page and submit your particular requirements.
Practical U.K. Car & Van Leasing
Business Users including the self-employed, partnerships and limited companies can now take advantage of our tailor-made flexible leasing schemes. We are able to offer a flexible alternative to conventional contract hire. If you need a lease vehicle for between 28 days and 12 months we provide a varied and ever-changing choice of both cars and vans from different manufacturers. The leasing rates we quote are fully inclusive of delivery, breakdown cover, road fund licence and a replacement vehicle. Your only requirements are to provide fully comprehensive insurance and service the vehicle in accordance with the manufacturers' requirements. Why commit your valuable business capital to expensive vehicle purchasing, incurring vehicle depreciation and restricting cash-flow, when we can provide a low-cost budgeted leasing alternative? Highly competitive rental rates are offered so please contact us and we will endeavor to assist you, alternatively please go to our dedicated vehicle Leasing page for further information and an instant quote.
Practical Car & Van Rental U.K.
Practical Car & Van Rental U.K. is the fourth largest rental company in the United Kingdom with over 150 hire locations located throughout the U.K. in England, Scotland, Wales, Northern Ireland and the Irish Republic. Providing Airport Car & Van hire at most major airports including Heathrow, Gatwick, Stansted, Luton, Dublin, Belfast, Liverpool, Aberdeen, Inverness, East Midlands, Exeter, Edinburgh, Cambridge, Southampton, Newcastle, Norwich, Leeds/Bradford, Glasgow and Manchester airports. See our comprehensive drop down list of Airport locations opposite for more detail.
Most locations will cover the local railway and coach stations so if you are arriving by train or bus we can probably meet you upon arrival. Deliveries to Hotels, Bed & Breakfast accommodation and business addresses can usually be arranged. Check with your supplying rental location for more information. With over 25 years experience of self drive hire we pride ourselves on delivering an outstanding service, quality vehicles and competitive rates. There are hire vehicles to suit every requirement, from 3 door economy cars through to 7.5 ton commercial vehicles. We have the Practical solution to all of your rental requirements including one way hire and Motorhome rental. Our rental locations are privately owned conveniently situated and can be contacted directly via this web site, for specific hire requests.
PRACTICAL CAR & VAN RENTAL - A NATIONAL COMPANY WITH A LOCAL SERVICE
PLEASE NOTE ALL BOOKINGS/CONTRACTS ARE ENTERED INTO DIRECTLY WITH THE FRANCHISE AND NOT PRACTICAL HEAD OFFICE – SEE: TERMS AND CONDITIONS
Documents:
Privacy Policy (pdf)
UK Cleaner Air Map and Restrictions
---
Useful Links
Copyright (c) 2021 - Practical Car and Van Rental Limited