Car and Van Hire in Arbroath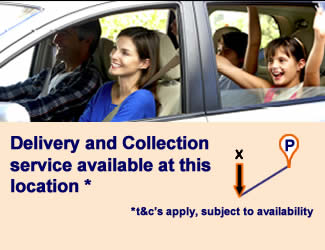 Location Information
Mon - Fri 8.30 to 17.00
Practical Car & Van Rental
Arbroath Car & Van Hire LTD,
T/A Practical Car & Van Rental ,
Checkpoint Garage,
Elliot Ind Estate,
Peasiehill Rd, Arbroath,
Angus
DD11 2NJ
Scotland

Tel: 01241 879999
Email: arbroath@practical.co.uk
Arbroath Car Hire
Reliable car hire Arbroath from a modern and comprehensive fleet of rental cars. Choosing the right car for your requirements couldn't be easier with us. Please use of the form above to find cars available to book online or make an enquiry.
Van Hire Arbroath
Commercial van rental Arbroath for any type of task you might have to undertake. We have a large variety of vans on our fleet which are ideal for moving house, office, furniture, equipment or anything similar. Our van hire fleet can cover any type of eventuality in Arbroath. When you select a van type it will show helpful load dimensions, these are only guidelines so if you are moving something which requires exact sizes then get in touch with us for specific sizes.
Other Car and Van Rental Related Services
Another rental service is our car and van short and long term leasing. Both commercial businesses and the general public can now take advantage of our contract hire leasing schemes. If you need a lease vehicle for between 28 days and 12 months we provide a modern choice of cars and vans which you can find more information about by selecting Flexi Lease from the Bookings and Enquiries form above.
Additional Service Information
We are the official Practical Car and Van Rental location in Arbroath, Scotland. We provide an Out of Hours service by prior arrangement only.
Our service areas include:
Brechin
Carmyllie
Carnoustie
Colliston
Edzell
Forfar
Friockheim
Glamis
Glen Clova
Inverkeilor
Vigeans
If you can't find your town or village and you are nearby please don't worry because we cover all of the surrounding areas of Arbroath.
If you are visiting Arbroath you might be interested in Arbroath Abbey which is located near the centre of the town. Other interesting places include Kerr's Miniature Railway; Harbour Visitor Centre; Arbroath Football Club and Brothock Burn. Did you know that Arbroath is the home to 45 Commando of the Royal Marines.
PRACTICAL CAR & VAN RENTAL - A NATIONAL COMPANY WITH A LOCAL SERVICE
PLEASE NOTE ALL BOOKINGS/CONTRACTS ARE ENTERED INTO DIRECTLY WITH THE FRANCHISE AND NOT PRACTICAL HEAD OFFICE – SEE: TERMS AND CONDITIONS
Documents:
Privacy Policy (pdf)
---
Useful Links
Copyright (c) 2020 - Practical Car and Van Rental Limited